Production of various copper alloys is possible at various casting processes from a small lot to mass production.
We are capable of mass-producing and supplying not only general brass products but also some bronze products using the permanent mold casting method.
We own several molding process facilities for shell molding, stack molding, and CO2 molding to support various needs of our customers.
In addition to supplying casting products, we are engaged in the development of copper alloy materials taking advantage of the properties of permanent mold casting as well as the development of manufacturing methods for leading copper alloy material manufacturers, leading copper alloy casting manufacturers, and leading faucet bracket manufacturers.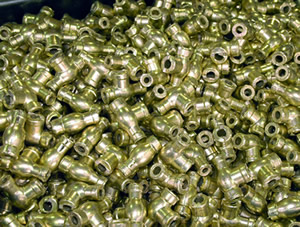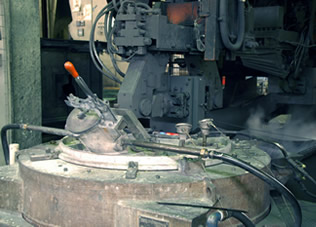 We currently use the following three methods for our equipment:
Permanent mold casting using KWC's low-pressure permanent mold casting machine (right photo above)
Gravity casting using metal molds
Sand casting with shell molds
Carbon dioxide process (Co2 process)
Many other proposals are also available as we have not only an established production system combining several methods but also fully self-manufactured cores.
Production method suitable for the use or material of castings
Production method that can reduce waste sand to a greater extent than conventional methods
Environmentally-friendly production method, such as discharge of low-pollution waste sand
Shape of castings considering balance between yield ratios and performance
Core Casting Department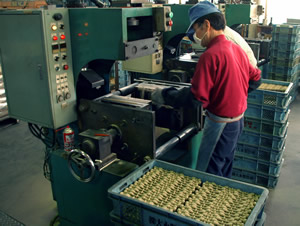 We manufacture all cores and production tools for the shell molds that we use ourselves.
Our efforts, including the use of reconditioned sand and waste sand reduction, mitigate industrial discharge, and achieve environmentally-friendly production systems and methods.
Main Casting Equipment
Automatic low pressure die casting machine (KWC): 2 units
1.8 t low-frequency holding furnace for low-pressure permanent mold casting machine: 4 units
High-frequency furnace: 1 unit
Core casting machine: 6 units
Shot blast: 2 units
Heating furnace: 1 unit
Press to cut castings: 3 units
Carbon dioxide process equipment
Dump-type shell molding machine: 1 unit
Capacity:max. 70 t monthly (based on castings)
Inspection and Experimental Equipment
Emission spectrophotometer (spectro)