General polishing and plating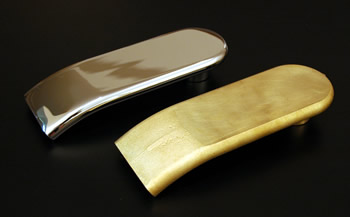 Front right:Before processing
Cast brass casting by permanent mold casting
Cutting work completed
Back left:After processing
Polished and plated product
(Nickel-chrome plating after polishing)
Download high resolution image »
Works efficiently assigned to both craftsmen and machines reduce costs and time while maintaining the quality of the finished products.
Complicated shapes can be achieved manually by craftsmen.
Simple shapes are made through automatic polishing.
We polish products after cutting work by machine if required by some product uses or conditions.
We entrust plating to 5 subcontract factories so that we can respond to various needs.
Plating by masking
Both products are identical.
We can plate the necessary parts of a product by masking. *We use the method most suitable for the shape of each product.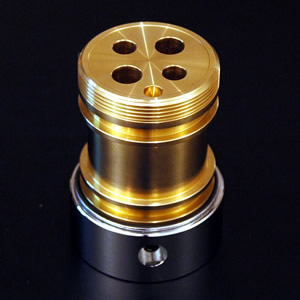 Download high resolution image »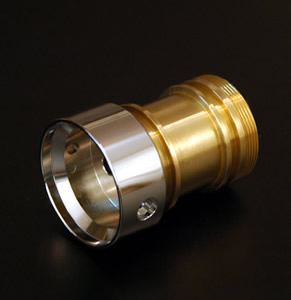 Download high resolution image »
Surface treatment with different colors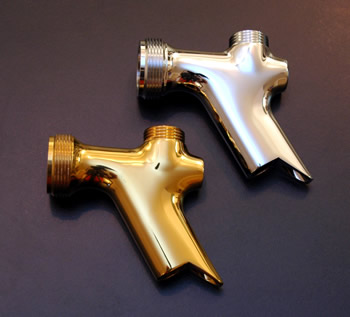 Material
Lead-free brass forging
Back right
General nickel-chrome plating
Front left
Gold-colored plating
(Ion plating, etc.)
Process
Surface treatment, such as polishing and plating after cutting work
Download high resolution image »
In addition to nickel-chrome plating, we can offer some different proposals on surface treatment, including ion plating, to suit your budget.
Expressing various colors, ion plating achieves the designer's request as well as quality products.
Other types of processing, including copper plating, are also available.