T1 Test to check molten metal flow and trial production
Gravity permanent mold casting method was used for trial production of permanent mold casting, and molten metal flow was checked.
Through both preliminary and true trial production of permanent mold casting, the molten metal flowability of each material was examined.
A permanent mold casting experiment was conducted using a common permanent mold casting metal mold plan for materials M1 to M8.
T2 Teeter mold test
Test to observe and confirm the shrinkage of materials during solidification.
Differences in the solidification process in the final solidified spot were determined from the differences in shrinkage cavity morphology, and shrinkage of the material was determined.
Size of test specimen:Diameter of bottom surface 68 mm, height 72 mm
T3 Confirmation of mechanical properties
The tensile strength and degree of elongation for test specimens of each material collected through permanent mold casting were confirmed using JIS Z 2241.
・Tensile specimen collection method:Size B sample material was used based on JIS standard brass castings.
・Test specimen:The test specimen was based on size 4 test specimen of JIS Z 2201.
Reference standard value
・CAC203 (JIS standard) tensile strength ≥ 245 N/mm2 and, degree of elongation ≥ 20%
・CAC406 (JIS standard) tensile strength ≥ 195N/mm2 and, degree of elongation ≥ 15%
T4 Analysis and confirmation of molten metal components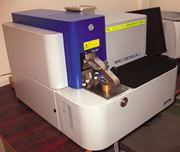 A solid metal emission spectrophotometer (SPECTRO A.I.) was used to examine the components of each molten metal during testing to determine the Pb and Cd contents as well as the amount mixed in when melted.

Specification at the time of purchase (manufacturer default value on the mill sheet at the time of purchase)
Mill sheet data at the time of purchase (values with no Cd measurement value were measured by our company)
Measured values of purchased material before melting using our company's equipment (the values do not necessarily match those provided by the manufacturer due to error of measurement and calibration method)
Analysis of components of molten metal at trial product casting
T5 Confirming processability
The characteristics of each material were better understood by checking the condition of chips occurring during cutting in trial production. (Each material was cut with tools and conditions used for common brass material and differences were noted.)
T6 Evaluation of pressure resistance of trial production
Trial product after cutting was placed into a water immersion-type compression leakage tester to observe leakage condition(Air pressure test at 0.4 MPa)